Make a quick and easy gift box using scrapbook paper. You can use solid paper or pattern paper specific to an event.
Try to pick up thicker paper. It just hold the shape better. For this round of Craft Lighting I wanted to do a project that was not only quick and easy but relatively inexpensive. The pine cones were from a nature walk and free. The jute cording I buy on the spool and it will last me for a year or two. Yes, I use a lot of jute cording for crafts. I usually pick up the jumbo spool that has a billion and one yards on it. And it never fails the cashier will ask me what my plans are for such a large spool. Guess they don't sell tons of them. I used a new product by Adtech on embellishments for this quick and easy gift box. It is scented glue for the glue gun. I used Christmas Tree and it really smells like a tree.
Materials for quick and easy gift box:
scrapbook paper
gift box tool
Adtech tape runner
Adtech glue gun and scented glue sticks (Christmas scent)
jute cording
pine cones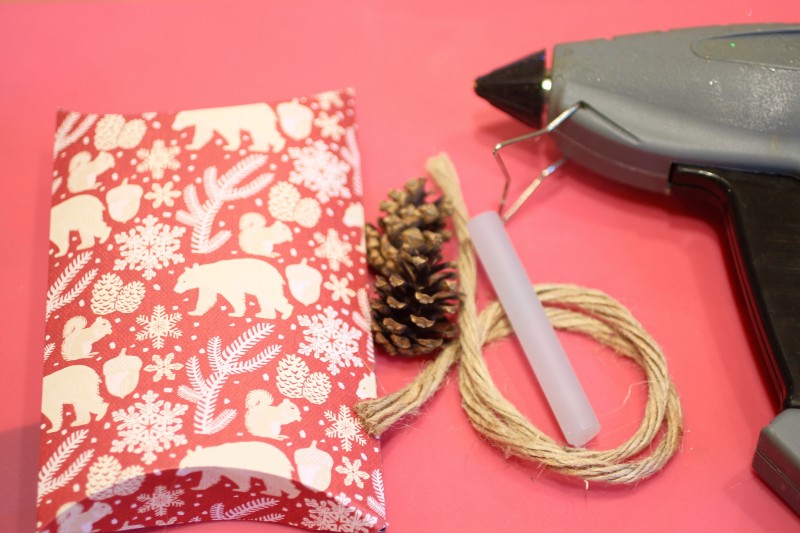 Instructions for quick and easy gift box:
Follow the instruction to make the gift box template. ( Mine was sent to me by Martha Stewart.)

Make sure you score the edges really well. It will make folding easier.

Fold the edges.

Tape the edges with a tape runner

Cut the jute cording to size. Tie around box. Use the hot glue gun to adhere the pinecones to the edges of the jute.

Place gift inside and pat yourself on the backThe gift box template was a little difficult to figure out at first. My first box took me 15 minutes. Once I got the hang of it I knocked out a dozen in about an hour. So it really is a quick craft. The nice thing about the tool is you can make gift boxes in a bunch of sizes. I chose this size so it would hold a set of lip moisturizers in a tube. I made a slightly larger version for small hand lotion. You however can place what ever you would like in your quick and easy gift box.